Chinosy w kratę grafitowe
Grafitowe spodnie bawełniane z dodatkiem elastanu. Wzór w kratkę. Spodnie są lekko dopasowane, mogą być noszone przez mężczyzn o rozbudowanych udach. Jeżeli do tej pory nosiłeś jeansy to może to być pierwszy kolor twoich chinosów męskich. W naszym asortymencie posiadamy też żywsze kolory. Spodnie są przeznaczone do użytkowania przez cały rok za wyjątkiem upałów. Pamiętajmy też, że w słoneczne dni kolor ciemny najbardziej przyciąga promienie słoneczne. Dużo lepszym rozwiązaniem są wtedy jasne chinosy męskie. 
Ten model jest aktualnie w produkcji. Niebawem pojawią się kolejne rozmiary.

PRODUKT POLSKI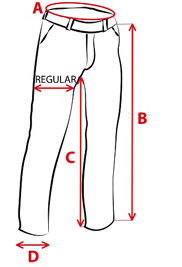 A – obwód w pasie
B – zewnętrzna długość nogawki mierzona bez paska
C – wewnętrzna długość nogawki
D – szerokość nogawki na dole
WSZYSTKIE WYMIARY PODANE SĄ W CENTYMETRACH



WZROST 170 cm
 
WZROST 176 cm
 
WZROST 182 cm
A
B
C
D
A
B
C
D
A
B
C
D
82
98
78
19
82
103,5
81
19
86
107
85
20
86
98,5
77
19,5
86
103,5
81
19
94
107
84
20
90
99
76,5
20
90
103
80
20
98
107
83
20
94
99
76
20
94
103
79
20,5
102
107
83
21
98
99
75,5
20
98
103
79
20,5
106
107
82
21
102
99
75
20
102
103
78
20,5
110
107
81
21
106
99
74,5
20,5
106
103
78
20,5
114
107
81
21
110
100
73
20,5
110
103
77
21,5
118
107
81
21
 
114
103
77
21,5
122
106
81
22
WZROST 188 cm
118
103
78
21,5
128
106
80
24
A
B
C
D
122
103
79
22,5
 
94
111
88
20
128
102
76
24
98
111
87
20,5
 
102
111
87
20,5
106
111
86
21